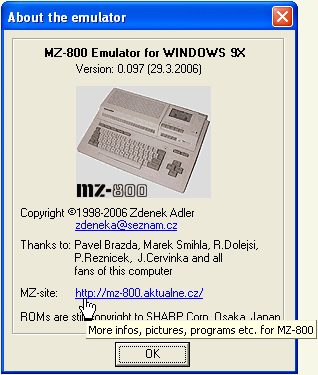 What's new in Version 0.075 ?
The plotter MZ-1P16 is now full supported.
Activate the plotter by one of the following methods: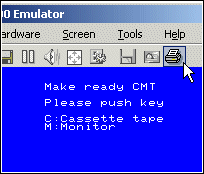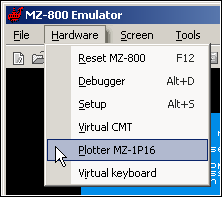 The plotter window will be opened: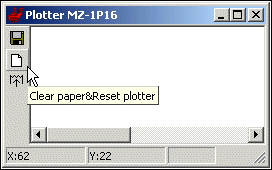 The three buttons enable you:
- to save the plotter output as a bitmap file
- to reset the plotter ( by this the previous plotted output is lost if not saved )
- to feed the paper
The status line at the bottom of the window show the actual X- and Y -positions and the status of the plotter ( busy etc. ).
These are sample plotouts; the first is done by the MZ-700 plotter demo program written in S-BASIC: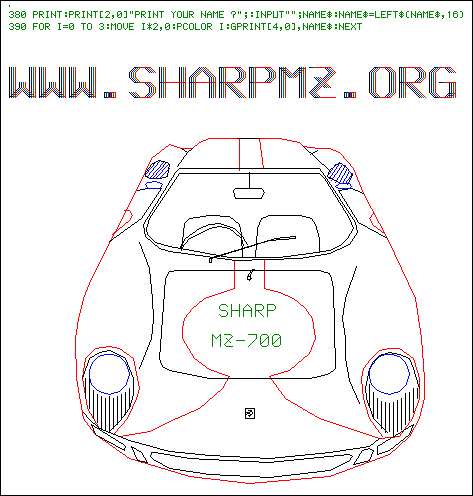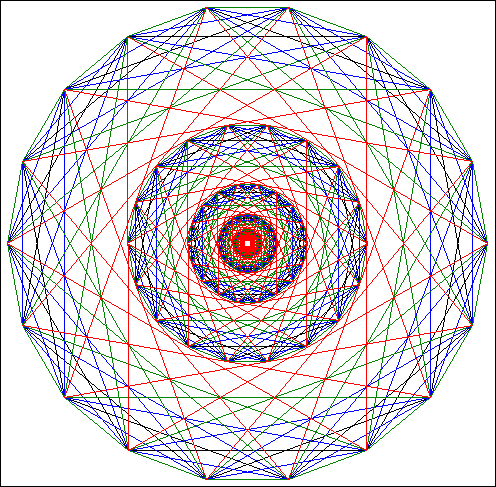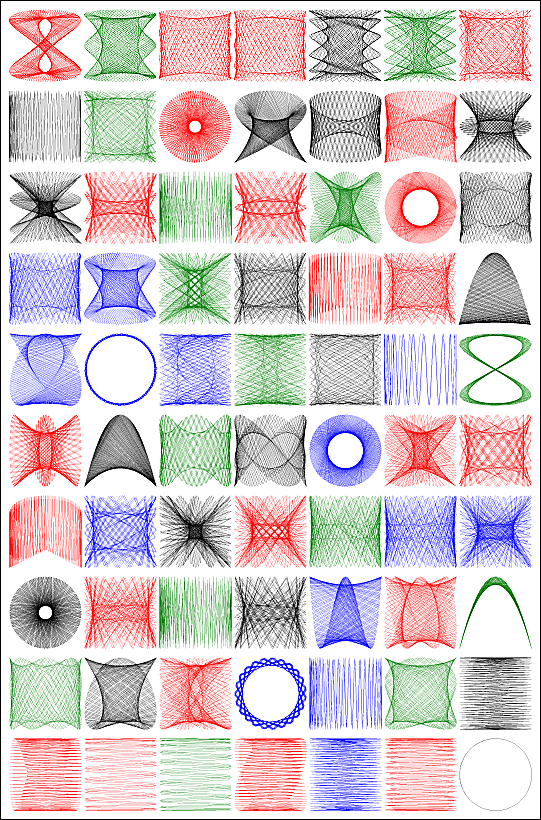 Version 0.076 news:
The emulator supports now a mouse emulation.
Download an application for MZ's to test the mouse ( 11 kb, Czech version ).
Version 0.084 news:
The setup is completely new designed. Buttons to accept ( OK ) or CANCEL the setup modifications are added.
New features are:
- Emulation of a green and greyscale screen
- The sound generation is completely rewritten and supports now a volume control and the noise emulation
- The debugger's breakpoint mode is tuned up for a high performance while using breakpoints.
Version 0.085 news:
The QuickDisk drive MZ-1F11 and its interface is now supported by the emulator.
Version 0.087 news:
The author has added disk tools to the emulator. See the description and screenshots about the disk tools above.
Version 0.091 news:
- Emulation of two undocumented graphic modes ( 3 and 7 )
- Higher performance for the CPU and sound synchronization
- Improved speed of scanline screen emulation ( scanline caching )
- Faster keyboard scans
- Error correction for loading MZF files from the command prompt
- Virtual keyboard
Version 0.091_2 news:
- The Shift key of the Virtual Keyboard is now activated.
- A much more comfortable usage of the file selection screen of the Virtual CMT / Debugger Load.
- Bugs fixed and improved speed of the emulator.
- "Save now" option added at the floppy selection menu.
Version 0.092 news
- The emulator supports drag & drop for MZF- and MZS-files
- code optimizations which improve the emulation speed
Version 0.095 news ( beta test version )
- New design of the virtual CMT
- The emulator supports the floppy HD drive A: if the 1.44Mb floppy disk inserted contains one or more DSK-formatted files.
- errors of the PIT 8253 emulation corrected
- Japanese language support in progress (unfinished)
Version 0.096 news (19.6.2003)
No news available.
(Note: The copyright screen shows incorrect information for this (last?) version: URL and version number.)
Version 0.097 news (29.3.2006)
An unpublished and precompiled version on disk found by the author after a long time. The project will be continued next.
Please take a kindly note of the author's site.