We have an example of this machine, and several brochures, some of which are in English and are dated 1982/3. The brochures show that there are many different models, and all of them may be used with other electronic equipment, such as TV sets, Video Recorders, Video Cameras, Video Disk Players, and 'Teloppers' ( see ** ):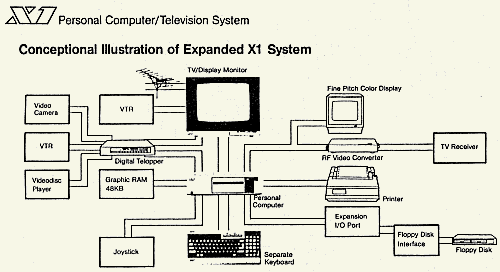 The X1 has colour capability, and can run BASIC or CP/M, using either 3 disk drives ( as on the Amstrad 8256 ) or standard 5.25"drives. We have CP/M 2.2 for the X1 and it looks pretty normal; but at the moment we do not have the BASIC, or any other software.
The development ofthe 'X1' range took place over several years ( see development graph below ); the later models were called 'X1 TURBO', and we have a brochure IN ENGLISH for these, which shows that the big new feature was a built-in 'Telopper' ( see ** )
* * A 'Telopper' is a device for transferring images between the computer screen and another video device, such as a VCR.