I started my journey from Bavaria / Germany to the SUC at April 22nd, 2004 early in the morning. About 1.450km from my home to Weymouth were waiting for me and my car. The route took me via Munich, Stuttgart, Koblenz, Aachen, Brussels, Dunkirk, Calais. I arrived in the late afternoon at Calais and decided to stay in a hotel overnight. I booked a ferry of P&O Ferries for the next morning. The ferries start at every 45 minutes around the clock.
I had to be there 30 minutes before the departure of the ferry. The ferry took me to Dover within 1.5 hours ( 14 miles / 22 km ). Now, driving on the left side of all streets, wasn't so much difficult as previously thought with some hesitation. In place of traffic lights mostly roundabouts are present in UK.
My route in South England from Dover / Kent
to Weymouth / Dorset took 4 hours for 335km: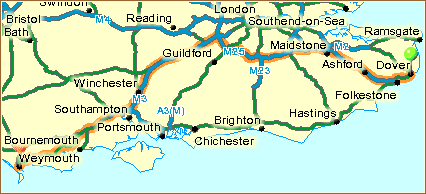 Dover ( A20 ) - Folkestone ( M20 ) - Maidstone ( M20 ) - Sevenoaks ( M25 ) - Leatherhead - M3 - Basingstoke - Winchester - Southampton - Bournemouth / Poole ( A31 ) - Dorchester ( A 35 ) - Weymouth ( A354 / A353 ) - Weymouth Harbour / The Esplanade ( A353 ) - Belle Vue ( SUC ).
I arrived at Weymouth in the afternoon without any problems on a very warm and sunny day and I informed the SUC Chief Editor Maurice Hawes of my arrival. He already invited me for the first evening where I also met the SUC Hardware Consultant John Edwards and Maurice's wife. I met very kindly, helpfully and merrily peoples.
I was invited into the SUC's holy area under the roof of Maurice's house and I could see all the big stuff in a very good working order. All MZ's were working with floppy drives, quick disc drives ( MZ-700 / MZ-800 ), and printers. I even could take a look at a working MZ-2500 with astonishment!
See yourself the following pictures which I was allowed to take and to show you:

A view into the left side of the small room

Sharp PC 7500 with NEC MultiSync APC-H4310 monitor, Samsung SPC 3000 with own
monitor, MZ-5600A with monitor MZ-1D10, and the first portable SHARP model PC 7000

The first portable SHARP PC 7000
and an MZ-80K with I/O box MZ-80IO and double floppy drive MZ-80FB, printer MZ-80P3

MZ-80K, MZ-80A with double floppy drive MZ-80FB
and an MZ-80B with double floppy drive MZ-80FB and mod. MZ-80SFD ( 3.5" )

A view into the right side of the room ( MZ-721, MZ-821 )

MZ-700 corner:
modified MZ-80SFD ( new 3.5" ), MZ-1F11, MZ-1U06, Epson TF-16 disk drives, MZ-721, and
a modified printer MZ-80P5 got 4 switchable character sets ( K, A, B and B in which the yen
character is replaced with a true unscore character )

MZ-800 corner:
NEC printer model P2200, MZ-821, MZ-1F11, MZ-1U06, Epson TF-16 disk drives
I, Maurice, and John, ( forgetting the time ) talked shop and tried out a lot until late in the 3 evenings, which I could be there. Maurice and John, they both have a very deep knowledge concerning all MZ's and never one of my questions remained unanswered.
I found very friendly people and competent specialists. Moreover, the SUC's extensively library with software, books, and SHARP manuals contains all what a member ever will search for and he is able to get software for free by a low cost membership. Members pay only the stamps for an order.
I could take home from the SUC hard- and software which I was searching for a long time. I also could take home for free a lot of information in my head !! ;-) Several new manuals are now in my collection which mostly are already available for download at my site.
During the days I visited the SUC's foundation location Yeovil College; but I also visited the old and new harbours of Weymouth, its wonderful beach, Bennets fantastically Water Gardens, and I liked shopping in the city ( Debenhams ). I also saw Bill - the lighthouse on the splendid island Portland having a very long and wonderful beach. I went through Dorchester and Sherborne, and on the backway to Weymouth I visited Abbotsbury's Swannery with several hundred swans ( breeding time ). There is much more to see, but I had no more time.
Thanks again for the very nice and interesting time which ended in the 25th April's evening. Next morning I had to goback home. I arrived at home one day later ( 27th April ). The odometer of my car indicated on 27th April 3,300 km more.