Hop, Step, Jump from a heavy stock book ( INVENTORY CONTROL PROGRAM )
"Now, we wonder how the stock book is being updated by those who run their own business or small company. Using pen and paper? You have to take out a heavy stock book to look for a transaction item every time a transaction is done and adjust the number of inventory and its value, so far as inventory control is concerned.
Why don't you give a rest to pen and paper for the time being, even if you are an expert ? Instead, let us try a computer with floppy disks and printer. Here, we provide you with a computer-controlled inventory control program for your own use. All inventory data is stored in this floppy diskette. And, you can take out any data at any time you want. Use of the printer allows you to prepare an inventory list automatically. This will enable you to register stock data as many as 1000 items at the most."
( Documentation will follow later )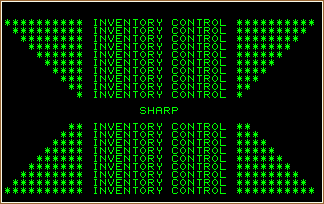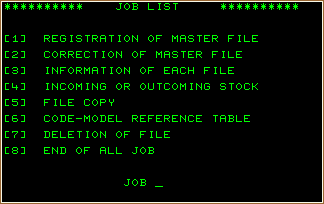 Load from
Length
Start at
Type
($0000)
$53A5
($0000)
BTX
SA-6510