SUPER BIORHYTHM
SOLO SOFTWARE ( for MZ-700 on tape )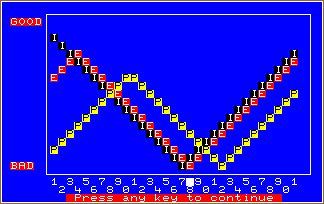 Not only will this fascinating programme accurately forecast your fortunes during any month reqeuested, but it will also give a list of your best and worst days during any year. Biorhythms are surprisingly reliable, scientifically accepted method of forecasting your physical, emotional and intellectual condition at any time. Also, great fun.

This program has a "Y2k"-problem, but I left it unchanged to keep the originality of the program. It is written in BASIC, so you're easily able to fix the problem.