TROUBLESHOOTING
1. Trouble kind
Because different location has to be repaired depending on a kind of trouble, you have to check, the output voltage in the first place. ( Apply source voltage of 220 to 240V with a 3.75A load connected to the output. )
No output ( 0V )
Low output ( 1 to 4V )
High output ( 7 to 10V )
Abnormal increase of output ripple ( several hundreds millvolt )
2. Finding where is in trouble
2-1. In the case of "No output ( 0V )"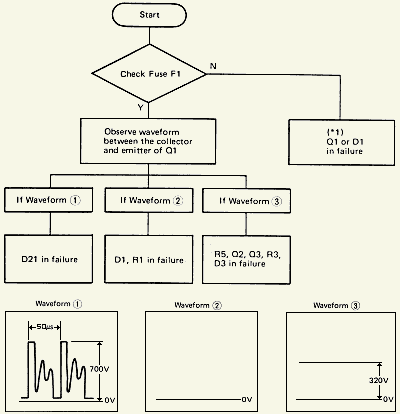 (*1): If the output voltage were to be still 0V without blowing the fuse after replacement of Q1, proceed to steps decsribed to the left of the troubleshooting flowchart.
2-2. When extremely low output voltage is encountered
2-3. When extremely high voltage is encountered ( 7 ~ 10V )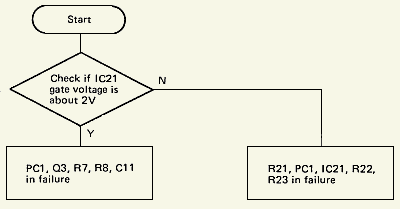 2-4. Abnormal increase of output ripple
In case irregular increase is seen for the output ripple like the one below, it needs to replace C22 and C23 with new ones because they have been fatigued.