Execution
To test the connection use the monitor program, type in S120022001200, and use any filename e.g. "test". You'll hear the sound of the data writing by the PC-Speaker. If you don't hear anything, don't try to use the tapeload program, it will not work.
Be sure that the auxilary entry is authorized ( Option, Properties ), the Mute Control is not selected, and the volume sliders of both Volume Control and Auxiliary are at their upper position.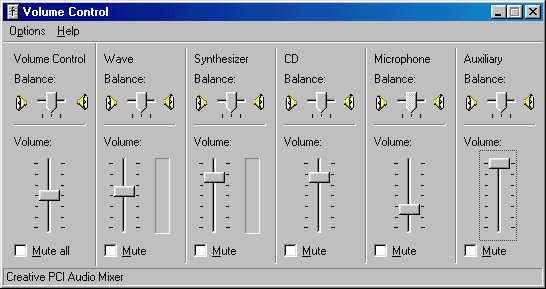 Now connect the floppy drive to the MZ and use a copy program to transfer the data from the MZ to the PC. Follow the instructions in the text file of tapeload 27 kb.

Be sure the copy program works wright on the MZ.
I've tested the program with a SB128PCI, SB32, and a Yamaha Sound Card, it works fine.
Karl Walpuski