The firmware uses memory starting at 1000H, these bytes and their uses are :-
| | | |
| --- | --- | --- |
| Address. | No. Bytes | Use |
| 1000 | 1 | Latest FDC command byte |
| 1001 | 1 | Motor on flag, 01 = on, 00 = off |
| 1002 | 4 | Track 0 flags for each drive ( 1 to 4 ) |
| 1006 | 1 | Retry count |
| 1007 | 1 | Not sure of this one? |
| 1008 | 1 | Drive Number ( 0 to 3 ) |
| 1009 | 2 | Logical Sector Number ( 0 to 1119 ) |
| 100B | 1 | Bytes to read |
| 100C | 1 | Number of sectors to read |
| 100D | 2 | Memory Load address |
| 100F | 1 | Current track No. ( 0 to 69 ) |
| 1010 | 1 | Current Sector No. ( 1 to 16 ) |
| 1011 | 1 | Start track No. ( 0 to 69 ) |
| 1012 | 1 | Start Sector No. ( 1 to 16 ) |
The interesting thing to note is that all disk accesses are done by reference to the logical sector numbers. Each disk is double sided, 35 tracks per side and 16 sectors per track. To convert a logical sector into physical side, track & sector the following calculation should be done :-
| | |
| --- | --- |
| Side = ( Logical DIV 16 ) MOD 2 | ( i.e. 0 or 1 ) |
| Track = ( Logical DIV 32 ) | ( i.e. 0 to 34 ) |
| Sect = 1 + ( Logical MOD 16 ) | ( i.e. 1 to 16 ) |
In practice however the software assumes it is a 70 track drive and automatically splits the track number ( 0 to 69 ) into track and side when accessing the disks.
The bootstrap ROM lives at F000H, when you type 'F' from the monitor, the processor looks at F000 and if it sees a ROM there then jumps to F000. This displays a prompt asking for the boot drive, press 1 to 4 or simply [CR] to default to 1. The system then reads in logical sector 0 to memory at CE00 ( 256 bytes ). If it is a boot disk this sector will contain a header with a file name beginning with "IPLPRO", a new memory load address, the size of the file and the start sector on disk. This is then loaded and run, the disk I had was the Disk Basic disk.
All the routines in the ROM get their parameters from memory pointed to by the IX register, this is usually set to 1008H. It is possible to use these ROM routines yourself by setting up a parameter block and calling them, however I am not sure that all versions of the boot ROMs contain the same code. To read sectors from disk into memory the following technique was used,
Set 1008 to the Drive Number ( 0 to 3 )
Set 1009 to the logical sector number ( 0 to 1119 )
Set 100B to 00
Set 100C to the number of sectors to read
Set 100D to the memory address to load into
Set IX to 1008
Call F1BA - This reads the sector/s
Call F151 - This deselects the drives
Using the above technique I was able to write a small MC program to read disks sector by sector and display their contents in Hex and ASCII form. The following are printer dumps of the results :-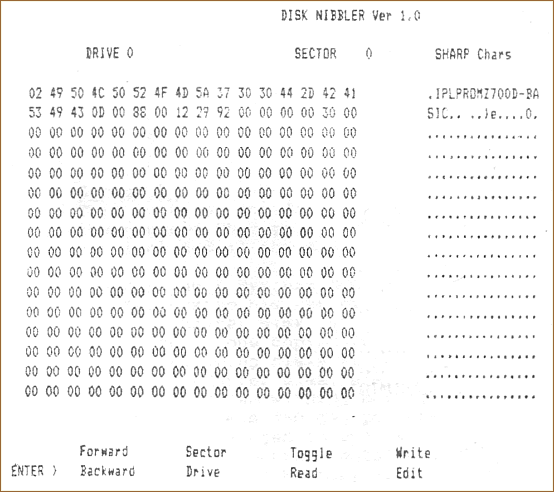 First Sector of Boot Disk. File = MZ700D-BASIC, Size = 8800H, Load = 1200H, Exec = 9229H,
Sector 0030H. N.B. 02 = Boot Disk ( 03 if 1E05 is used ).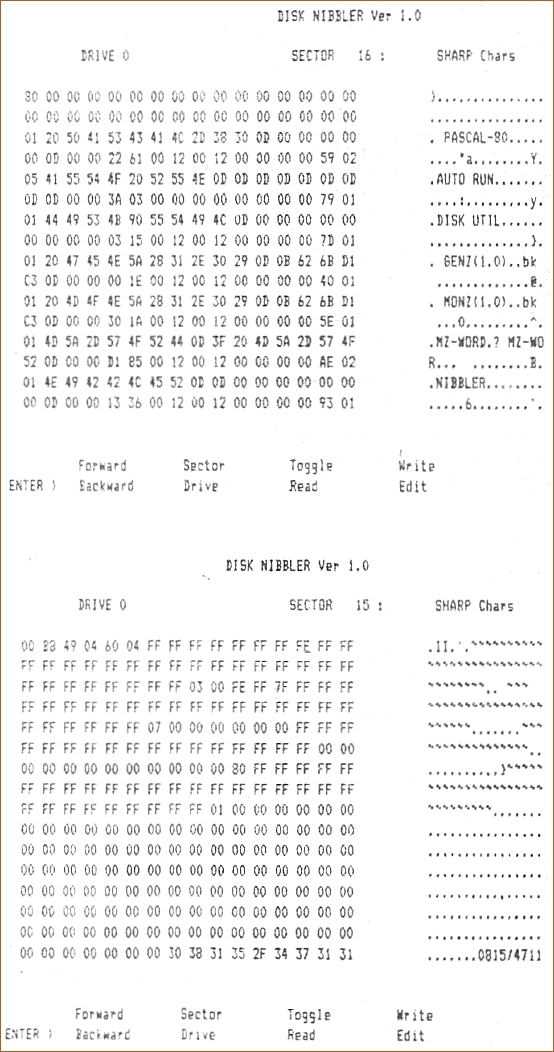 Analysis of the above for various disks enabled me to determine how the system uses various sectors.
Sector 0 = Boot information sector.
Sector 15 = Sector Allocation information.
Sectors 16 to 23 = Directory information.