Dump / display command
Syntax: Daaaaeeee
You can separate each parameter by one or more space character(s).
This command displays the contents of the storage from aaaa to eeee on the screen.
The format is dump as follows:

The area to be displayed is from $C000 to $C008.

The monitor stops displaying at $C007. If you want to see the area from $C000 to $C008, you should type in: DC000C009 or DC000 C009 ( parameters can be seperated by space(s) ). There is one byte left and it works as designed.
C000 is followed by 8 hex characters which represent the contents of the storage in hexadecimal notation. The monitor tries to translate these values to the MZ-700 ASCII code. If the monitor finds a non displayable character ( see the $00's ) then a decimal point is displayed by the monitor, but if the output will be transferred to the plotter ( by the command P ) then the plotter changes to the next color pen and plots the hex code. If a printer is active instead of the plotter it prints the hex code too.

If you enter the command D again but without parameters then the next following 128 bytes will be displayed.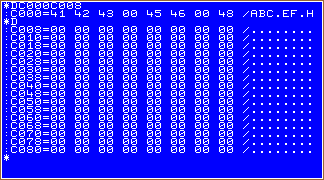 If the end address eeee is less than the start address or equals to the start address aaaa the end address is ignored by the monitor and the first 8 bytes starting from aaaa are listed.

The monitor displays a block of 128 bytes starting from aaaa if a non hex character was entered in the end address eeee.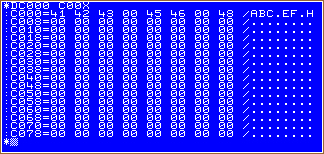 The monitor displays the next 128 bytes if a non hex character was entered in the start address.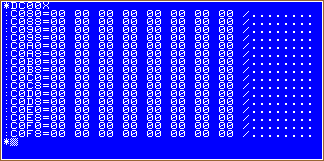 To pause a complex, long listing press the BREAK key as long as needed. The listing can be stopped by pressing the SHIFT key and the BREAK key coincidentally.
You can modify each displayed hex value in the storage by overtyping its value and then pressing CR. You cannot change the address or an ASCII character by overtyping its value. To the syntax of editing values see the command ":".